Barnett Outdoors Raptor FX Pink Crossbow Package is perfect for a smaller framed or up-and-coming hunter. With all the features from Barnett's other popular bows with speeds up to 330 fps, This Raptor FX is ready for any big game animal.With adjustable cheek piece and butt stock allowing the shooter to keep the bow as she or he grows, making adjustments as they need it.
Barnett's Pink Raptor FX in a muddy girl print is perfect for the lady hunters whether they are pro or beginning hunting. As always, safety is a priority. The Raptor FX features are the same 5-1 safety system and trigger system as all of the other premium Barnett bows.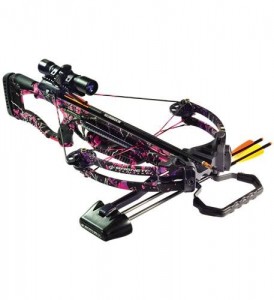 Barnett Lady Raptor FX Crossbow Package
Barnett Outdoors Raptor FX Crossbow Package, Large, Pink is pretty sweet for a ladies crossbow even for a smaller framed hunter, giving you the perfect shortest settings making a nice feature for us smaller framed hunters.
All though if you are under 5 feet you will need to use some Hef to cock it, using a cocking device should do the trick.The 4×32 Multi-Recitile Scope is adequate and some have even said the trigger pull is even better than other units.
Barnett Raptor FX Crossbow is an awesome bow, with great quality and very affordable. If your not feeling it with the muddy girl camo style, perhaps you will be more interested in The Barnett Outdoors Raptor FX Crossbow Package Large Camo.
Raptor FX Pink Crossbow Package Includes:
4×32 Multi-Rectile Scope
Rope Cocking Device
Removable 3 Arrow Quiver
3 20″ Headhunter Arrows – with field points
If you have any question or comments on the Barnett Raptor FX Pink Crossbow Package Or if you have an experience with it you'd like to share, we'd love to hear all about it below. 
Cheers,
Jennifer