A couple years ago, it was only hunters that had physical disabilities that used crossbows. Nowadays crossbows have become very popular and are demanded for deer hunting.
Now that the crossbow is an additional tool for deer hunting the manufacturers have started to produce a lot of high tech crossbows that are budget and beginner friendly without compromising on quality.
As a beginner, you want a crossbow that will help to make your shooting skills better. You can find a sophisticated crossbow that is easy to use and that can be found at an affordable price for your first crossbow. Keep reading to get all the information you need to help you purchase your perfect crossbow.
How to Choose the Best Beginner Crossbow
There are a number of factors you may want to consider when you are looking for your first crossbow. You will want to analyze the features the crossbow to ensure that they will be of benefit to you.
Since you are a beginner and don't know much about crossbows, reviews will also be your best friend. The experiences of others can help you to avoid making a bad choice for yourself.
This is just your first crossbow though, remember that. You will go through different stages going through your training and as you go through the stages you may find that you will need more features over time.
It is best to get yourself the simplest crossbow in the beginning with good safety until you have gained the right amount of practice to go for higher quality models with more power.
Read: Best budget crossbow.
What to Look For In a Good Beginner Crossbow
There are quite a number of things to consider when you are looking for a good beginner crossbow. You will want a crossbow that is affordable since as you gain more experience you will purchase a better crossbow with more features to match your expertise.
You also want to look at draw weight and won't want too much weight as you want something that is easy to use in the initial. You also want to look at arrow speed and also the overall power of the scope.
You will love that many beginner crossbows come with a cocking device and some arrows along with a quiver and even a target sometimes. It is great to get one of these are you get all you need to start out at a good and affordable price. And that is what we want to help you to do.
Daisy Youth Crossbow Review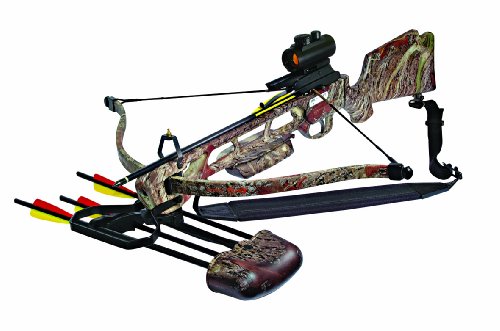 This is a great crossbow for beginners due to its size and design. It provides an introduction to crossbow hunting and gives you the power and feel of a good hunting bow. With this bow you will be able to learn how to shoot with the crossbow.
Made from a composite frame and with fiberglass limbs you will find this crossbow light and easy on the arms. It has a draw weight of just 29 pounds so beginners will be able to use it without having to exert too much strength.
Included with your purchase of this crossbow is a cocking stirrup which makes it very easy to use. It also has automatic safety which is great for you for starters. This means you will have to turn off the safety every time you want to shoot which is great as it teaches beginners safety which is of utmost importance when doing any kind of shooting.
This crossbow comes with an adjustable rear sight which is great for elevation and windage. This will teach beginner shooters to understand how elevation and wind can affect their shots.
Southern Crossbow Risen XT 350 Crossbow Kit Review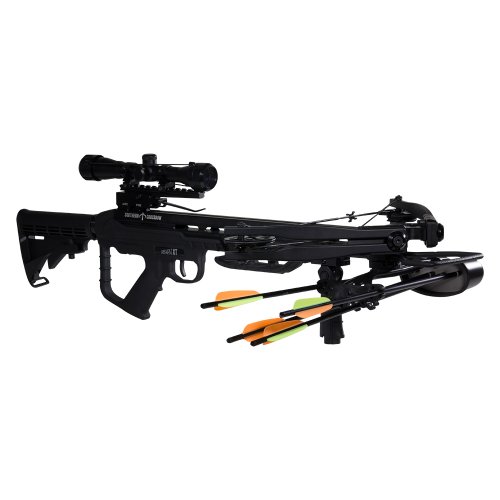 The Southern Crossbow Risen XT 350 is a robust crossbow. It is a good choice for crossbow beginners who are versed in hunting just not in the use of a crossbow.
The unit is very sturdy coming in at 8lbs and 12 ounces. It is an ideal choice for both ground blind hunting and tree stand hunting thanks to its black finish. It is a top quality item and has the power to take down big game such as Cape buffalo and grizzly.
It comes with a rope cocking device to make cocking the crossbow up to 50% easier than if it was done without the device. This is an ideal crossbow for small game hunting, deer and elk hunting, moose and bear hunting and even simple target shooting for beginners.
This is one of the best crossbows you will find that costs less than $200. Thanks to its safety mechanisms you don't have to worry about dry firing and made by Arrow Precision you are certain that you will get top quality customer service if you ever need answers to any questions about the product.
You will love this affordable, highly accurate and powerful crossbow and all the extras that come along with the kit to make it ready to use right from the package.
Arrow Precision Inferno Fury Crossbow Kit Review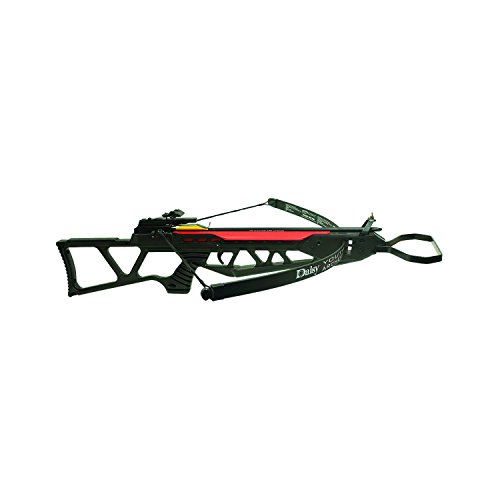 The Arrow Precision Inferno Fury crossbow kit is a great option for beginners. This kit is ideal for the use of small game hunting as well as moose and bear hunting as well as deer and elk hunting. It is a great buy at less than $200 and is a great option for those who just want something for starting target practice.
The crossbow itself is super lightweight and very comfortable to use. It is built with the safety mechanism that offers protection against prevent dry firing. The company is known for having excellent customer service so even after purchasing this product you can be certain that the company will deal with anything you need quickly and in your best interest.
Conclusion
The best beginner crossbow is one that will not be too heavy and will not offer too much firepower. As a beginner, you will need to have a lightweight crossbow so that you can practice your target acquiring skills and still not get too fatigued. Any of the above crossbows will prove to be ideal for beginners to hunting and beginners to crossbows on a whole.