If you are looking for crossbows and are on a budget, then you are on the right page. While it can be hard to find an affordable yet reliable crossbow it can be done. There are many options whether you choose to purchase your item online or at a local retailer.
No matter where you buy the features you are looking for will be the same. And it is the features that will dictate to you if the crossbow you choose is indeed the best crossbow under 400 that your money can buy.
How to Choose the Best Crossbow Under 400
One thing that you may not consider when looking for a crossbow is how it will fit your body shape. Crossbows nowadays are being made with a lot of innovations and even those that are more affordable will offer up a number of modern features.
You will find a wide variety of crossbows under $400 made from a number of different materials and made in different sizes. They will also offer different calibers, differing velocities and different shooting ranges. It all depends on what your main purposes for the use of the crossbows are. So first you have to look into what you plan to use the crossbow for before you start looking for the best one.
What to Look For In a Good Crossbow
You want to look at crossbow speed especially if you are going to be using the crossbow for hunting purposes. You also want to look at the draw weight of the crossbow, the overall weight of the crossbow and of course you want to ensure that the crossbow matches your budget of under $400.
Draw weight is the amount of force that will be required to draw the bow, the further you pull back the string, the more the draw weight increases. A decent crossbow will have a draw weight of at least 150 lbs.
The draw weight will affect the speed of the crossbow and you should look for a crossbow that offers a minimum of 220 FPS if you are going to be hunting. You can get a bow with less if you are just using it for target practice.
When considering crossbow weight, you want to ensure that the bow's dimensions are something you will be able to manage easily. There is no sense in purchasing a large and heavy bow which will cause you fatigue after minimal use as this will affect your accuracy.
Barnett Recruit Compound Crossbow Package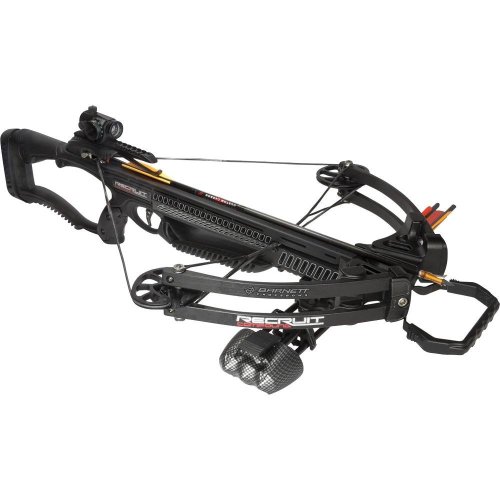 The Barnett Recruit compound crossbow package comes in under $400. This is a great bow for small framed shooters and for women and even children thanks to its size, dimensions and design. It is ideal for small game hunting, target shooting and moose, deer, elk and bear hunting as well.
It can be quickly and easily assembled out of the package and comes complete with a rope cocking device which makes it even easier to use. This bow is small but it is powerful using 400 grain arrows with a FPS of 300 and dealing out kinetic energy of 85 ft. lbs.
Included with your purchase is a red dot scope that helps to increase the accuracy of the shooter. You will definitely find value for money when you purchase this crossbow package from Barnett Recruit.
New PSE Fang 350 XT Mossy Country Crossbow Review
There is a new and updated version – the PSE Fang 35o XT which provides improvements in balance, an updated butt stock and improvements in ease of use.
The manufacturers have added string stops that help to keep vibration and noise to a minimum. This crossbow is ideal for hunters who hunt both out of tree stands and even out of blinds. It will provide an enjoyable shooting experience whether you are hunting or simply using it for target practice.
Included with the crossbow for this package is a 4 x 32 MR scope along with green limb dampeners. There is also a five bolt detachable quiver and an auto safety trigger as well as an anti-dry fire safety mechanism. There is also a cocking rope included along with some rail lube and a foot stirrup that is rubber-coated.
Your crossbow comes with three 20 inch carbon bolts having 100 grain field points. All of this comes at a cost of under $400 making this a great option if you are looking for a high quality item at an affordable price.
Leader Accessories Crossbow Package Review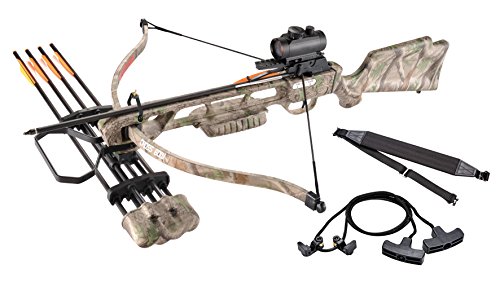 This crossbow from leader accessories is a great starter crossbow for a man. Included with your purchase of this crossbow package is a cocking tool to make it easy to use the bow. The purchase of this package includes 4 aluminum 16 inch arrows.
Your purchase includes a 3 red dot sight scope, a cocking rope, padded sling, quiver, wax and stringer. The arrow tip has a weight of 125 grains. This bow has a draw weight of 160 lbs. and a speed of 210 FPS. The crossbow itself weighs approximately 6lbs so you know this crossbow is very lightweight and easy to manage and won't cause any fatigue.
This is a great crossbow package, not only does it come at a nice price but it also comes with a number of products so all you need to get shooting comes in the package. It is easy to set up and so you can complete set up in less than 10 minutes.
It is a lightweight model that is ideal for hunting and target practice. It is great for persons of a smaller frame and with limitations in their physical level. You will enjoy using this crossbow and will not regret your purchase.
Conclusion
Being on a budget doesn't mean you have to settle for a low quality crossbow kit. Any of the above mentioned kits provide high quality bows made to perform well in training and actual hunting settings. You will find value for money in any of the above kits and will not regret making a purchase of any of these items.
Also, if your budget can stretch slightly further then it may be worth checking out our articles on crossbows we've reviewed under 500 dollars and 600 dollars. Sometimes simply adding a hundred dollars to your budget can result in getting a lot more "bang" for your "buck".