So you want a new crossbow and you want to know what the best crossbow under 500 is. Truth is that there are quite a bit of options out there in the industry and it can be hard to pick just one. We want to help you make the choice without getting frustrated and believe us; it is quite easy to get frustrated when you see the sea of options out there.
So we are going to go ahead and narrow it down to three options. You are certain you will find a suitable crossbow on this page – one that will meet all your needs and won't break your budget.
While we're at it, don't forget to check out our guides on some of the best crossbows under 400 and the best under 600 as well.
How to Choose the Best Crossbow Under 500
Bow hunting is not the same today as it was a couple years ago. Standard on most crossbows today are features to ensure speed, ease of use and accuracy – this is especially true for the newer bows on the market.
They are also making crossbows now a lot lighter than the models of yesteryear and with great technological innovation. So even under $500 you can get a good quality, lightweight, powerful and accurate crossbow that you can carry and shoot with comfortably and easily.
Yes you can find a crossbow at a reasonable price; you do it by looking at the features. All the features mentioned above and we have made it easier for you by singling out three of the best options under $500. Check out what you should look for in the best crossbows and then go on to look at our choices.
What to Look For In a Good Crossbow Under 500
Our advice is always to purchase the best you can afford. While there are a number of options for under $500 you should choose an option closest to the top of your budget. You can get a good crossbow for $300 but you may want to stay closer to your cap of $500. These will be built better and have higher quality features that make their use easier.
As you consider the crossbow you must also consider the quality of the arrows you use. No matter how good your crossbow is, you will not be accurate without good quality arrows. It is usually better to get arrows that are designed specifically for crossbows and not for compound bows.
The best material to choose for your arrows is carbon. These arrows tend to have better aerodynamics than others made from different materials.
SA Sports Fever Crossbow Package 543 Review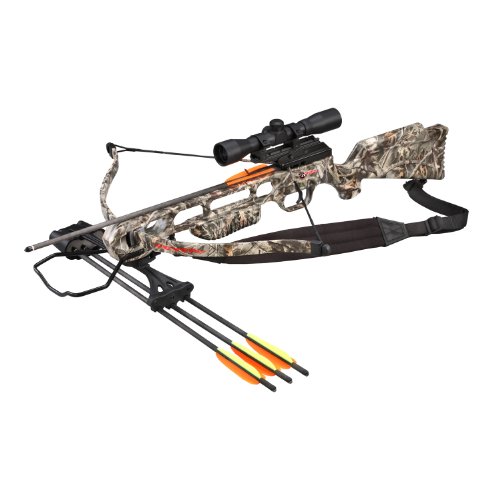 The SA Sports Fever Crossbow package is ideal for small game hunting as well as moose, deer, bear and elk hunting as well as it is a great choice if you just want to do target practice.
Since this is a kit, it comes with all you need to start. It is quite easy to assemble and will take less than an hour to complete. This crossbow is quite lightweight weighing in less than 5lbs as well as it has a short power stroke. Being so lightweight it is easy to carry around and will not cause too much fatigue.
It however has a heavy draw, firing at 240 FPS and with a draw weight of 175lbs. These specs allow the arrow kinetic energy of around 51 feet per lbs. Your purchase of this kit includes a multi range scope to provide you with better visibility of your prey or target.
Barnett Whitetail Hunter Crossbow Review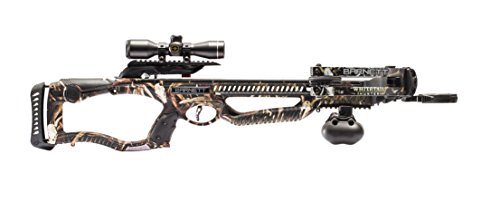 This is by far one of the best crossbows you will find for hunting, specifically so deer hunting as this is what it is designed for. This crossbow offers great value for money and comes with a number of accessories and features.
This is a relatively new addition to the crossbow market being released just a year ago in 2016. It features finger reminders with a fore grip and a bristle retainer that is patented along with a 7/8" picatinny rail.
The limbs of this crossbow are made from composite laminate so that it is very durable and is a great choice for those who hunt in cold weather. It has an adjustable butt pad allowing you to be comfortable.
It comes with a 4×32 scope to help ensure your accuracy up to 60 yards. It also features a rope cocking device and the quiver is equipped with "quick detach" so you can easily release it when necessary.
CenterPoint Sniper 370- Crossbow Package Review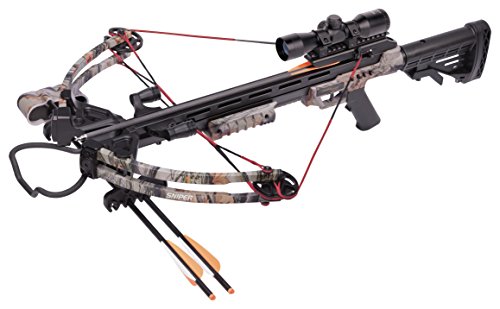 This crossbow is an ideal one for target shooting, small game hunting as well as moose, deer, bear and elk hunting. This crossbow is a powerful tool with a firing velocity of 370 FPS. The crossbow is both compact as it is lightweight and it can be adjusted fully in the forearm and stock.
Included with your purchase is an illuminated scope if you need to work in low light or night conditions. This crossbow is extremely powerful as well as it is accurate and is better for those with experience than for a beginner just trying out crossbows.
The sniper 370 has a draw weight of 185 lbs. this one is hard to cock without the included rope cocking device. The rope coking device makes the crossbow easier to use as well as safer to draw. Its kinetic energy output is 128 feet per lbs. which is what makes this an ideal choice for hunting the really big game.
Conclusion
You can find the best crossbow under 500 from our list above. You don't have to take our word for it either. You can take a look at their reviews which will show you that owners of the crossbows agree that they are top options. You can get the best while not being able to break the bank with one of these.
However if these don't seem to quite catch your eye, you can find a wide array of crossbows under $500. Just read the reviews for the options that you are interested in to ensure that you are making a good decision when you purchase your crossbow.