Crossbows are extremely popular now that most states have legalized their use during archery season.  With popularity of any product the market is flooded with options and prices can get real high too. An expensive crossbow with a lot of features can cost over $2000 but that doesn't mean that you can't find yourself a high quality item for less than that.
Here we want to look at the best crossbow under $600 and you will be happy to know that you can get a great quality item at that price. Not only can you get a crossbow for under $600 but you can also get a nice kit with all the necessary items to start shooting right away.
Please note, we also have guides on the which crossbows to buy if your budget is only $500 or even 400 dollars respectively. Additionally we wrote a less price sensitive guide on some of the best inexpensive bows.
How to Choose the Best Crossbow Under 600
When purchasing a crossbow you want to purchase the best option that you can afford. When looking for bows under $600 you will want to stay closer to your cap as these will definitely be the best quality bows. They will be built from the best material and will have better reliability and accuracy than the cheaper models.
You want to look at draw weight as this is the main thing that distinguishes a target bow from a hunting bow. Most states will have regulations that determine what you can purchase. On average the acceptable range for all states is a draw weight of between 75 and 125 lbs.
If a bow you are considering has more draw weight than that you need to first check with your state's regulations to see if the bow will be legal to use after you purchase it. You will easily find crossbows that have draw weights exceeding 200 pounds but if all that is not necessary then just go for what you need.
What to Look For In a Good Crossbow
You want to consider the draw weight of your crossbow not only for legal reasons but also for reasons of effectiveness. Depending on what you are going to be hunting, the draw weight is what dictates how much kinetic energy your bow will land on your prey with. Higher draw weight also helps to improve your accuracy and the chances for that kill shot with one arrow.
Another way to increase your accuracy is by using a scope sight. You will find a lot of crossbow packages that come with a scope sight included with your purchase. A good one will offer magnification up to 5x. You can find single red dot scopes or crosshair scopes. The most popular ones are multi-reticle scopes which may have horizontal crosshairs of three to four dots instead of one.
You want to use the best quality arrows with your crossbow or else you will never have a precise shot at your target. Cheaper arrows will be flying all over the place. You want to ensure you only purchase arrows that are designed to be used with crossbows and only use the arrows that the manufacturer of your crossbow recommends.
When it comes to the material that is used to make arrows, you will typically find arrows made from aluminum and carbon. The ones made from carbon are better options since they are more durable and more reliable.
Wicked Ridge by TenPoint Invader G3 Crossbow Package Review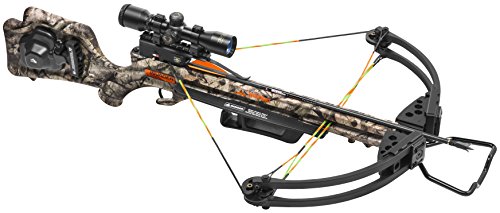 The Wicked Range Invader G3 crossbow is a durable and well-made crossbow that is designed to give the best performance. This crossbow performs exceptionally well and comes at a price that will fit most if not all budgets. It is quiet, easy to draw and very accurate so it is deal for both target practice and for use on the field. The crossbow weighs a mere 6.6 lbs but the unit is still sturdy and powerful.
The limbs of the crossbow feature the energy wheel from TenPoint which ensures a smooth and easy draw every time. The riser is made with aluminum with strategically placed cutouts to provide additional strength.
These design features provide the bow with maximum speeds of 330 feet per second so you can accurately hit even the fastest prey. Your purchase of the G# crossbow package from TenPoint includes the crossbow, a cocking mechanism and a 3 dot scope.
Killer Instinct Furious 370 Crossbow Review

The killer instinct Furious 370 crossbow is one of the lightest crossbows you will come over. It comes at a cost of under $600 and is an ultra-compact model that makes it easy to handle and easy to use.
It features precision accuracy when used with the right bows offering speeds of 370 FPS. To add to its compact design the crossbow comes with a foot stirrup that folds and is made from over molded rubber. This cross bow was actually designed off of military standards.
It is designed for ambidextrous use and features a butt stock system that makes it quite comfortable to use. The CCS is fully customizable allowing for increased accuracy and improved reaction time. It offers noise free performance and a friction fit with five position adjustment for the buffer tube.
With your purchase of the Killer Instinct Furious 370 crossbow package you get the crossbow along with an illuminated scope, 3 arrows, a 5-arrow quiver, string suppressor, a roper cocker and a stick of rail lube. The included scope features red or green rheostat illumination, a multi-coated lens and multiple brightness settings so that it will provide incomparable clarity.
Bear X Crossbows Archery Bruzer FFL Crossbow Package Review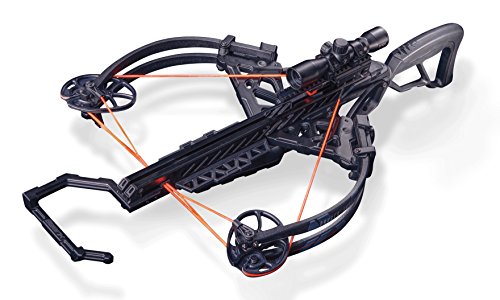 This package from Bear X includes a crossbow that is ideal for small game hunting, moose, deer, bear and elk hunting as well as target practice. The crossbow is lightweight while packing a good amount of power. It features forward facing limbs and as such provides the user with better balance.
Its compact design ensures that it provides the utmost ease of maneuverability. With your purchase of this package you will get the Bear Archery Bruzzer FFL Crossbow along with a Trophy Ridge XF425 scope.
There are also three 20 inch bolts, a cocking sled, some rail lube and a picatinny mount quiver. The cross bow has a draw weight of 125 so it is a pretty decent choice and its arrows shoot at speeds of 335 FPS with 99.3 ft. lbs. of kinetic energy.
Watch: Best crossbow for money
Conclusion
It is quite possible for you to find the best crossbow under 600. You just need to know what features to look for and what you want your crossbow to do. Choosing anyone of the above crossbows will be a good idea as they all offer extreme value for money.