Often times when someone is evaluating a crossbow, they go ahead and overlook the price. But you shouldn't especially if this is going to be your first crossbow and your first time venturing into the field of archery. You don't want to purchase a top notch expensive model only to find out that you are in no way shape or form interested in the sport.
So first you want to start off with a beginner model and then work your way up. So we have put together some of the best inexpensive crossbow products on the market so you can find a crossbow you can afford but one that will offer you durability and longevity as well as efficacy.
Also be sure to check out our other guides:
How to Choose the Best Inexpensive Crossbow
Choosing the best inexpensive crossbow is done in the same way you would choose any other crossbow. You must first know what you want from your crossbow.  The best crossbow for you may not be the best crossbow for someone else.
You may want it for hunting while someone else may need something for target practice. Once you know what you want from your crossbow you can go ahead and start doing your research.  Take a look at the average cost of crossbows with the features you need and see if there are any close to your budget range.
If you find that they all are higher priced than your budget you may want to reconsider some of the features you need or even reconsider your budget.
What to Look For In a Good Inexpensive Crossbow
A good inexpensive crossbow will not have all the bells and whistles. Affordable crossbows are designed specifically beginners so their design is usually very basic and the design of the crossbow is the same across the board.
The thing that sets an expensive crossbow apart from an inexpensive one are the materials used to make the bow and the features of the bow. So a less expensive cross bow will have less features but you can still find one that is made from good quality materials.
Look for a crossbow that is right for your size and your physical capabilities and find one with mechanisms that improve your accuracy and efficiency.
150 Lbs. Wood Crossbow Review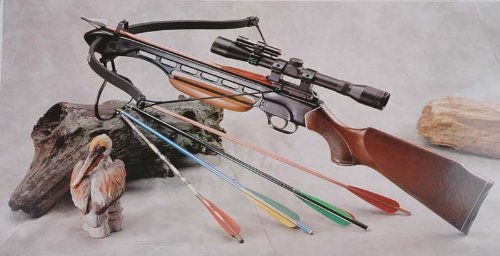 You want a crossbow with enough power and with this one you get a draw weight of 150lbs. It fires arrows at 200 feet per second. This is a good bow for hunting as well as target practice. It is great for beginners since it features an auto safety lock which is good so your arrows won't accidentally go lose while you are cocking the bow.
When you purchase this bow you get a package including a scope and a set of bows so with your purchase of this item you can start your target practice right away. The bow even comes with the scope already mounted for you so set up is a breeze.
Included with your purchase you will find 1 fiberglass arrow and 8 aluminum arrows. The crossbow has a field to use of 110 yards so you can get your targets even far away with high amounts of accuracy.
The crossbow is made with real wood stock with fiberglass limbs and features aluminum barrel construction so you know it is a durable and well-made product even though it is a high quality you don't need to pay a high price tag.
Jaguar CR-013 Series Crossbow Kit Review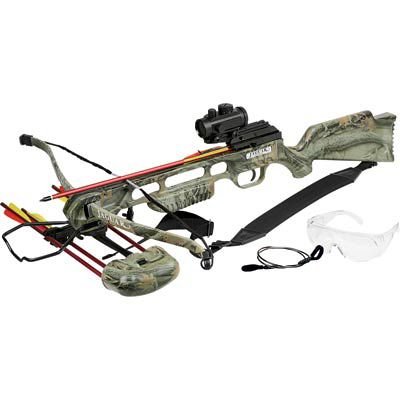 The Jaguar CR-013 comes in this kit. This rifle style crossbow is a recurve so it does not have as much moving parts as a compound bow. This means that there are fewer things to break and so you will find that this bow will last a long time and even outlive its compound bow competitors. It also comes at a great price for what is offered in the kit.
This crossbow is highly accurate, safe and durable. It is good for ambidextrous use and has automatic safety with a foot stirrup to help you cock the bow quickly. It is adjustable for windage and elevation.
The included scope is a 30mm red dot scope on a weaver style rail. The scope has seven levels to adjust the brightness and the crossbow has a 16 inch power stroke. The quiver is made to accommodate 6 bolts and it is detachable.
Your purchase includes 4 sixteen inch arrows made from aluminum with 150 grain heads. This crossbow comes at a cost of less than $300 and is one of the best crossbows you can find below the $500 price mark. This bow is highly recommended if you are looking for a beginner bow that is accurate and affordable.
Wizard Archery 150 lbs. Hunting Crossbow Review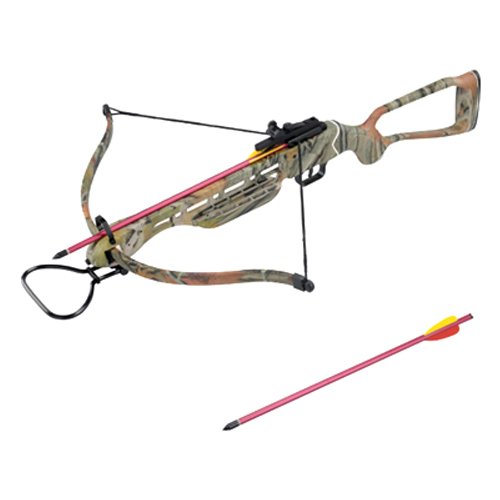 If you are on a budget and just starting out with crossbow shooting you will find the Wizard Archery bow. It is ideal for practicing and also is a good choice for starting out hunting small game. With the right expertise this can even be used to effectively hunt larger game as well. It comes in four different colors and you have to cock the bow manually since it does not come with a crank.
Using the foot claw you can cock the crossbow a bit easier than just by using your hand. Included in your purchase is a scope that will help to improve your aim and make your entire experience with this crossbow that much more fun.
You will love that the Wizard Archery crossbow comes ready with all you need. You just need to purchase a target and get out there. The barrel is made from aluminum and the limbs are made with high tech fiberglass. These materials ensure that the crossbow is very durable. With a FPS of 210 and a range of up to 60 yards you know you will enjoy a lot of accurate shots with this crossbow.
Watch the video below for more insights.
Conclusion
It is not hard to find a good quality crossbow that is inexpensive. To help you find the best inexpensive crossbow we handpicked three of the best and included them here. You will not regret purchasing any of the above crossbows.