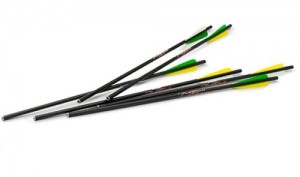 Excalibur Firebolt Carbon Arrows (6-Pack).
The Excalibur  20-Inch Firebolt Carbon Arrows are made from the highest quality materials to exact specifications to ensure the best hunting experience in accuracy, while using the broadheads. Excalibur Crossbow Firebolt Carbon Arrows made from series 22 Carbon. Excalibur Firebolt Arrows seem's to be a little pricey, But soo worth every penny. The vanes are all one color and the ends are flat.  As they are extremely accurate.  Hitting your target dead on, each time. The only down fall with the Excalibur Firebolt Carbon Arrows is the vanes are all the same color. But they are worth the purchase as these are deadly accurate, and very lightweight. These arrows are made best for the recurve crossbow to deliver an optimum speed and accuracy when using the broad-heads.
 150 Grain 3-Blade Broadhead- Hunting Broadhead
---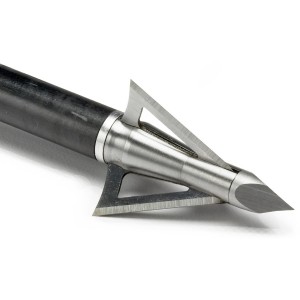 Excalibur boltcutter 150 grain 3-blade broadhead is a accurate hunting  broadhead in today's high speed hunting crossbow, the Excalibur delivers an amazing accuracy at extreme range, when it is teamed with an appropriate designed arrow.  This boltcutter is made entirely from high strength stainless steel, to with stand the hardest hit. Delivering each and every time. Excalibur boltcutter makes an excellent accessories, these broadhead tips are no exception. An all around excellent product from top notch crossbow manufacturer.
>>Click Here to See Pricing, Reviews and Ratings on Amazon.com<<
 Excalibur TP150-12 Field Points
---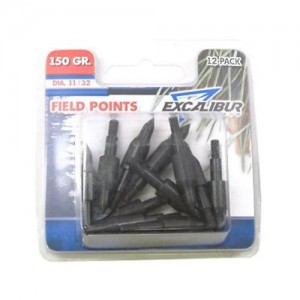 Excalibur TP150-12 Field Points,11/32″, 12 Pack. Screw in style field points are 21/64 diameter to fit Excalibur's carbon or aluminum bolts. They are 150 grain to match the 150 grain broadheads that are recommended by Excalibur. You recieve 12 per pack, Mfg Item Number: TP150-12.
Field points are designed for shooting practice and target shooting, Leaving your broadheads safe and sound for hunting.
>>Click Here to See Pricing, Reviews and Ratings on Amazon.com<<