If you are seeking a compact Recurve have a look at the Excalibur Matrix 355 Crossbow Package Realtree Xtra 240-pound. Take advantage of Compact Recurve technology (compact platform, unmatched durability, lighter-weight, enhanced accuracy, improved balance, reduced recoil/noise and easier to cock)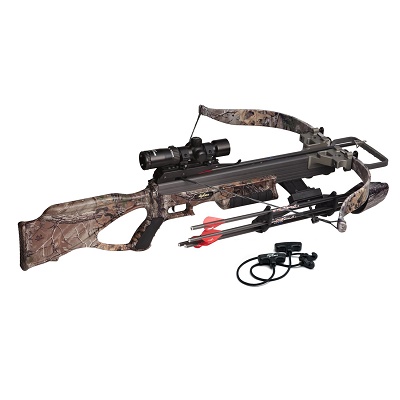 Excalibur Matrix 355 Crossbow
Matrix 355 Crossbow Realtree Xtra is a well manufactured product, extremely accurate. Well balanced and lightweight. Small for a recurve bow, cocking can still be difficult for someone who is smaller. A cocking device should do the trick with some Hef. The scope is outstanding, set it to factory standard FPS, shoot, adjust based on shooting high or low (Note: If you are shooting high, you are shooting faster so dial up, etc.) Some do say it definitely needs a R.E.D.S. Noise suppressor.
Another great tip is the Matrix does not come with an anti fire mechanism but the matrix 380 does. Matrix 355 has a fire/safety switch similar to that of a rifle. When purchasing the Matrix 355 make sure to add Excalibur Guardian Anti-Dry Fire Scope Mount
.
The Matrix 355 Crossbow  is on the pricey side for a beginner I would recommend going with something little cheaper to start out with like: Excalibur Axion SMF Crossbow. Unless you have tried the Matrix 355 Crossbow and you can afford it. You will not be disappointed. Here is a video describing all that is included. and a few added tips.
Excalibur Matrix 355 Crossbow Package Includes
With the Matrix 355 Crossbow you get the Matrix PowerLoad limbs, Ergo-Grip Stock, Quad-Loc riser and the "Kolorfusion" applied to Realtree Xtra Camo, you also receive four grain field points and a rope cocking aid.
I would recommend when purchasing the Matrix 355 to purchase extra arrows, as the matrix is extremely accurate.
The Matrix 355 is very fast at:
 350 grain- 355 fps.
Draw weight -240 lbs.
Power Stroke -12.25″.
Mass Weight – 5.4 lbs.
The Overall Length – 34.75″.
Arrow Length – 18″.
Arrow weight – 350 Grain Min.
Efficiency – 75.80%.
String – BCY Dyna- Flight 97.
Model 3500.
Pro's
Spot on accuracy,
Compact simple design,
Low maintenance,
Tac-zone scope is really nice.
Con's
Price is little high for a beginner,
Difficult to cock if smaller framed,
Makes a lot of noise recommend purchasing R.E.D.S suppressors.
View On Amazon
If you have any question or comments on the Matrix 355 Crossbow Or if you have an experience with it you'd like to share, we'd love to hear all about it below. 
Cheers,
Jennifer