---
Excalibur has done it again, continues to change the game in the crossbow industry. The Excalibur Matrix 405 Mega Crossbow Package , has been built for the most serious hunters. 
The New Matrix Mega 405, has been built to push above and beyond the coveted at 400 feet per second. With blistering speeds and its hard hitting powerhouse, with bone crushing power.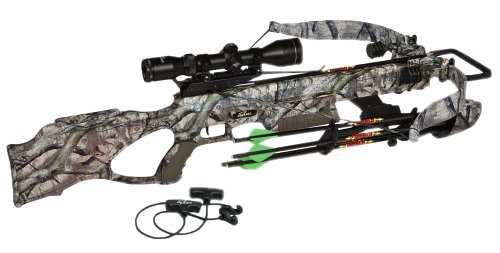 The Matrix Mega 405
---
Mega 405 packs a serious lethal combination of power, with high speeds and its flat shooting performances. The recurve crossbow features an Ergo-grip thumb-hole stock.
It is also integrated with R.E.D.S (Recoil Energy Dissipation System) string suppressors it helps it to reduce the noise and shock for a more comfortable shooting experience, BCY Dynaflight 97 string, reduces creep and increases the speed.  It also has Guardian Anti-Dry-Fire System. With a built in release allows for easy uncocking so you don't need to fire a bolt. The Matrix Mega 405 comes in Mossy Oak Tree stand finish and weighs 290 lbs.
This is not meant for tournament competitions or any sort of a back yard target practice. Mega 405 Bolt Length is  18″, Minimum Arrow Weight: 350gr.  The Mega 405 has blistering speeds with a bone crushing power, and the Mega 405 is capable for taming the largest & deadliest game.
 Excalibur Matrix Mega 405 Package Includes:
---
Twilight DLX Scope and 30mm rings, a cheek piece, a four-arrow quiver with bracket, four Diablo bolts, four 150-grain field points and a rope-cocking aid. Matrix string made of BCY Dynaflight 97, which reduces creep and increases speed.
If you are looking for a serious bow then this one is for you…  Some have said, the simplicity in the design with no moving parts on the limbs, making it out of the box assembly an ease, first shot accuracy as many have stated.
This 405 fps speed is for real with 18′ diabblo bolts and 100 gr heads, 350 grains. The selling point was verified with this crossbow, Though the scope, is a steller. 44mm objective w/ 30mm tube, fully coated optics.
There is a tiny high resolution diamond with intensity rheumatically controlled center, and each distance up to 60 yards, as well as diamonds left and right center to gauge lead of a walking deer. Combing the accuracy this bow produces, high speeds, this crossbow is a harvesting machine. You will need to cock 290# draw 13 inches. It does take some focus, techniques and some muscle. But you will be satisfied with the excalibur matrix mega 405…
What are your thoughts on the Excalibur Matrix Mega 405?
Check out Amazon's current deals on Matrix Mega 405 Crossbow
If you have any question or if I missed anything please comment below…