---
Excalibur 6750 Vortex Varizone Crossbow Package
The Excalibur Vortex Crossbow shoots up to 330 FPS, with 84.65 ft lbs. of remarkable power for  the largest game, Its accuracy is Amazing, and its strong enough to take down a Cape Buffalo.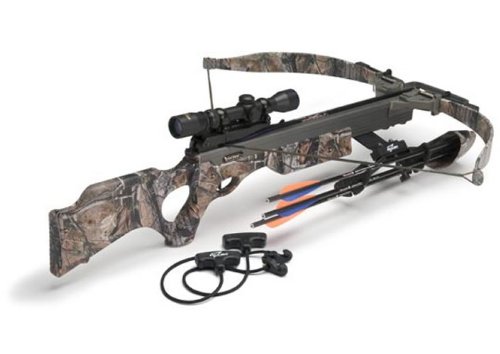 Vortex:
---
The Vortex Varizone Crossbow is a 200# draw weight you will want to use the rope-cocking device to pull the string back, the draw is very nice and smooth. All though it can be a little more strenuous than most of the other crossbows. Weighing only at 37.4 / 6.3lbs, The recurve crossbows are finished with Realtree AP HD.
Comes with 4 Firebolt 20″ Carbon arrows, with a detachable quiver. Making the scope really nice, once you have the Vari-Zone sited to dial at 20 yards. This scope allows you to compensate for different arrow speeds around 250 to 350 fps in a 10 yard, this Vortex will never let you down.
If you are a hunter who appreciates a good searing speed in a smaller package, this Vortex crossbow is for you!
Hunting : with the Vortex
---
The Excalibur bow is all around an excellent hunting crossbow for any hunter or new comer, as long as you are legal to shoot in North America. Even if you are just hunting for rabbits or the odd grizzly, this Vortex will not let you down for the season. As the Vortex packs a powerful punch.
What are your thoughts on the Excalibur Vortex?
Check out Amazon's current deals on Excalibur Vortex
. If you have any question or if I missed anything please comment below…