Don't let this crossbow fool you it may not be 300 fps, but it still packs a punch. The Parker Bushwacker 150 is a perfect for hunting small to medium sized game.  The Parker Bushwacker Crossbow is made in the USA!. Hard-hitting Parker performance, with superior accuracy with a friendly price tag! Blaze your own trails with the hard-hitting speed.
This is an excellent crossbow for the money with a lifetime warranty. Very lightweight great for a smaller framed hunters.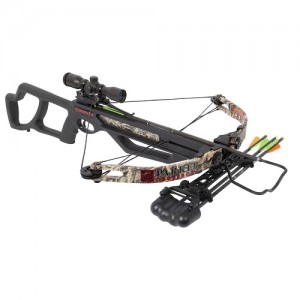 Parker Bushwacker 150 Crossbow With 3x Multi-Reticle Scope
Parker Bushwacker 150 Crossbow with 3X Multi-reticle Scope Is nicely designed and well balanced for a compound crossbow. The Bushwacker can accelerate a 20′ 400-gr. Carbon arrow at a buck-tagging 285 FPS!  And with 150 lb. Limbs, cocking is rather smooth and easy with a deadly quiet shot when you pull the no-creeper trigger. The only downside to this crossbow is that there are no rope cocking device  included with this crossbow package.
The best-suited bolts for the Bushwacker is 20″, 400 grain carbon arrows, warning without proper alignment of bolts and nock, a dry-fire could occur. Use only the Red Hot or Parker Hunter Arrows in Parker Crossbows. Also, you should only use Capture Nocks. The grain weight includes in broad-heads/field point, for example if you wanted a 300 grain shaft and a 100 grain field point. Having a slightly heavier arrow is just fine, but not lighter.
Safety and design on the Parker Bushwacker are exceptionally safe, the anti dry-fire mechanism will automatically kick in as soon as the crossbow is cocked. Safety can be disengaged by using left or right hand, as it is designed to with its user's in mind.
Bushwacker has a textured pistol-style grip, making it comfortable for you to grip. For added safety and comfort, the forearm has be vented so that you can pass through your fingers for a more comfortable shot. Parker Bushwacker also has a finger cover to protect your fingers from harm, making it pretty impossible for your fingers to get caught up in the accelerating string.
View More On Amazon
Parker Bushwacker Crossbow Scope
Parker Bows Bushwacker 4X Mr Pkg
  package includes a 3x magnification multi-reticle scope. It is pretty much sighted right out of the box and easy to sight.
With minor adjustments to the scope to get out in the field for a perfect shot each and every-time.
The BushWacker's scope is an adequate scope for right out of the box, I wouldn't recommend hunting in low light or foggy weather with this scope. If you plan on it, I'd recommend purchasing illuminated multi-reticle scope.
Parker Bushwacker Performance: 
Stock length to stirrup: 37 1/4″,
Width axle-to-axle: 23 3/4″,
Weighs just 7.1 lbs.,
150 lb. draw weight,
Machined aluminum riser/ polymer barrel,
11′ power-stroke,
Zero-creep G2 trigger,
Ambidextrous auto-safety that incorporates an anti-dry fire,
Vented forearm,
Backed by Parkers Lifetime Warranty.
Parker Bushwacker 150 Package Includes:
Parker Bushwacker 150 Crossbow ( stock, cams, cables, string, prod,
Foot stirrup,
3-bolt quiver,
Parker's Warranty Card- Lifetime,
Multi-reticle scope with 3x magnification,
Assembly hardware- bolts, keys,
Assembly and proper maintenance.
If you have any question or comments on the Parker BushWacker 150 Crossbow Package Or if you have an experience with it you'd like to share, we'd love to hear all about it below. 
Cheers,
Jennifer