The Parker Bows CHAllenGER 4X MR Packageis a small framed crossbow with 3x Multi-recticle Scope Package. Being a small size crossbow with a huge performance! At an amazing weight of only 5 1/2 lbs, the challenger is a compact and lightweight, making it easy to shoulder shoot. With an adjustable draw weight of 125 to 150 lbs.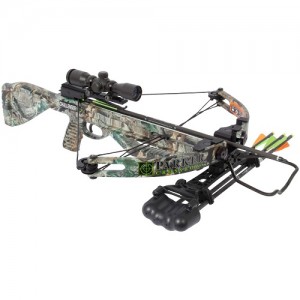 Parker Bows Challenger 4X MR Package
The Parker Challenger can be customized to fit with no special tools, or any additional parts.  Parker Challenger is a perfect compact crossbow for Youth, ladies or smaller framed hunters.
Parker Challenger is very affordable, even though the price tag may say "entry-level", the crisp and responsive G2 trigger, perfectly balanced forearm, and shoot's deadly to 300 fps at the maximum draw weight.
The Challenger is all about business on the hunt, lightweight easy to carry while out on field. Just like all other Parker crossbows, the challenger is engineered with Parker's Exclusive Synergy Cams that deliver greater performances and diminish the cocking effort by over 50% when paired with the Red Hot EZ Roller Rope Cocker; making Parker crossbows the easiest to cock in the industry.
Use proper alignment of bolts and nocks or dry-fire could occur. When using Parker Crossbows always use Red Hot or Parker Hunter Arrows. Always make sure you have loaded your arrow properly, proper nock alignment and full contact with string, always check to make sure there isn't any damage with the arrow before shooting. Recommended arrows 400 grain, also I would recommend picking up  Red Hot Delux Roller Cocker as it's not included. Have fun and play safe.
Features:
G2 Bull-Pup Trigger
Auto-engage, Ambidextrous Safety
Auto-engage, Anti Dry-fire Mechanism
Modern, Light Weight, Super Compact Design
Optimal Balance Point for Improved Accuracy
Red Hot String
Vented Forearm with Safety Finger Flange
 Parker Bows Challenger 4X MR Package Includes:
Premium Red Hot Optic,
Four Arrow Quick Detach Quiver,
Four Arrows with Field Points.
View More On Amazon
If you have any question or comments on the Parker Bows Challenger 4X MR Package Or if you have an experience with it you'd like to share, we'd love to hear all about it below. 
Cheers,
Jennifer