Hunt like a lady, Unleash the warrior princess in you by being able to express your feminity and not look like one of the guys with a pink archery bow case, we have selected some of the best soft & Hard compound bow cases for you to choose from that will suit your needs, as their's no two hunters alike… As some prefer soft cases and others prefer hard cases.
Soft Compound Bow case
30-06 Outdoors Princess Pink Camo 39 Bow Case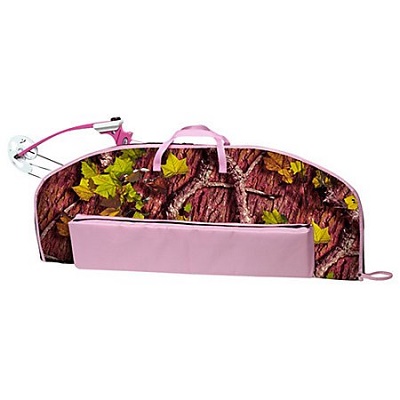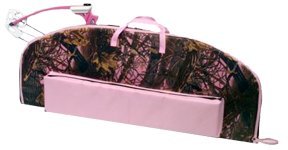 The Outdoors Princess Pink Camo comes in two options to choose from, they are less expensive and extremely durable for your bow, quiver, arrows (bracket not included) with a built-in arrow pouch to hold your arrows.
 Click here for more details
The princess Bow Cases comes in two sizes, 39″x2″x15.5″ perfect for youth Or choose the 44.68″x8.7″x20.42″ in a stylish pink camo finish.
PSE X-tech Lite bow case Blk/pink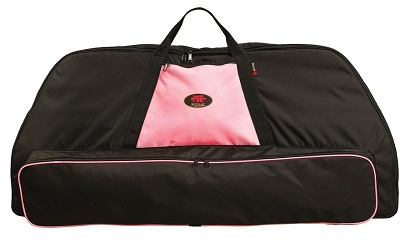 PSE X-tech lite bow case comes with heavy duty padding that has a weather resistant outer shell. The PSE X-tech has plenty of room in the external accessory pocket with a double zipper arrow pocket to store and transport your bow, quiver, arrows.
Includes; double carry straps and ATV tie-downs for easy transporting. Size: 4″x18.5″x43″ Find out more details here.
GamePlan Shoot Like A Girl Bow Case, 40-inch, Black/Magenta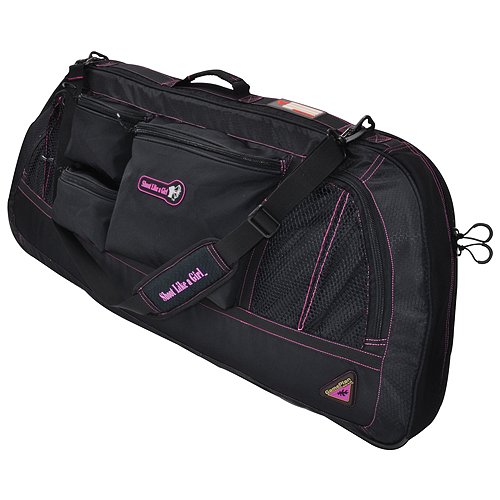 The GamePlan Shoot like a girl bow case is lightweight, with pink stitching and logo. The interior is completely customizable with velcro soft cuffs to fit's your bow perfectly.
Bow Case comes with an Insulated jacket with a TechPlus laminate, simple but quite safety vest that can be slipped over your camo clothing that will keep you dry and warm.
GamePlan bow case is easy to travel with as it comes with shoulder straps, and pockets on the outside that hold your quiver and arrows.
OMP Compound Bow Case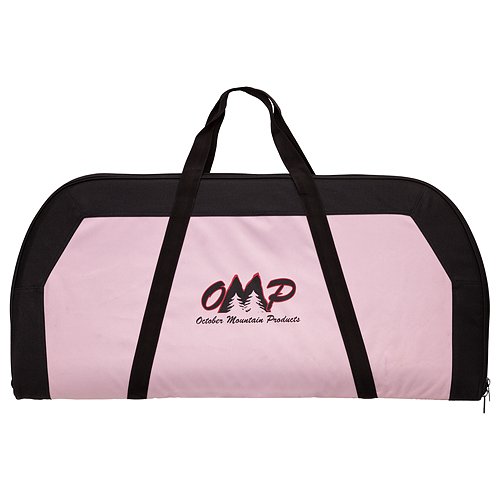 OMP Compound Bow Case is designed to fit a compact youth and ladies bows, transport and protect your bow in style although it falls short on the storage area, as it doesn't have any pockets for your arrows but other than that it's a great case for the money. Click here to find out more details.
Crafted from rugged 600-Denier Material offering a soft-sided interior design, to ensure your bow is protected. Transport your bow with an ease with the carry handle that is provided. Comes in base colors with a black trim as well the October Mountain Products logo on the front of the case. Dimensions; 36″x 17″.
Canvas Compound Bow Case
The Canvas compound bow case is one of the most expensive cases as you've already spent your hard earned money on your bow why not show it off in style with one of the best soft compound bow cases that is fully loaded that provides tons of room to carry your accessories, and comes in all sorts of colors for you to choose from. Find out more here.
Features; accommodates all compound bows up to 36″ axle length, padded on both sides for maximum protection, three velcro straps to hold you bow tight during transport, Rolled Leather carrying case handles with a lifetime durability, adjustable shoulder straps for hands-free carrying.
Hard Compound Bow Cases
SKB Injection Molded Small Parallel Limb Bow Case

The New SKB Military-Standard Injection Molded Bow Case is watertight and dustproof that is reinforced with a padlock locations for customer-supplied locks for added safety. SKB bow case is lined with EPS foam inserts for secure positioning of any smaller frame bows so theirs no knocking, provides storage under the lid to secure your arrows. Find out more details here.
SKB Bow Case fits smaller parallel limbs such as MathewsHeli-M the Dimensions; 35″x14″x5″ Features; SKB's Unconditional Lifetime Warranty and 1500 Content Coverage Guarantee.
If you have any questions/concerns or if you've had an experience with any of the Pink Archery Bow Cases mentioned above that you'd like to share with us we would love to discuss them with you in the comments below…
Cheer's 
~Jennifer