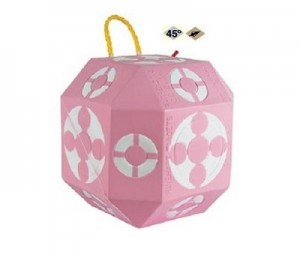 This is the longest lasting archery target, Rinehart 18-1 Target – Pink Eighteen to One Self Healing Archery Target. It show's you the best side every time, very easy to carry to shoot around with some friends, making it perfect to practice almost anywhere – at the club, in your backyard, or even a quick practice session at a hunting camp. Rinehart guarantees the Rinehart 18-1 for the full year!
Self Healing Archery Target
Absolutely the best target out there! Self seals, even stops a 150 lb vixen II with field points and 80 lb cobra PVC bolts. Whether your shooting broad heads, field points or even expandables, using the combination of solid Rinehart "self-healing" foam is on 18 sides making this the longest lasting target available. If you shoot out all 18 sides within a full year, visit your authorized Rinehart dealer and they will replace it – guaranteed hassle-free!
Product Description:
18-1 can take arrow after arrow with out loosing it's shape.
18-1 is lightweight easy-to-carry for quick target practice before heading out in field.
18 vivid target zones made from legendary solid Rinehart "self-healing"
Shoot out all 18 sides within a full year, visit Rinehart dealer and we'll replace it – guaranteed hassle-free!
Height 15″
Length 15″