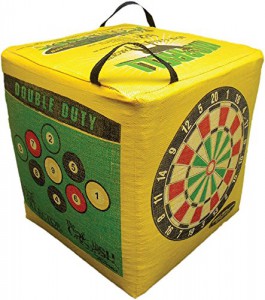 The Bone Collector archery targets 400 F.P.S. Target by Morrell With the help of the Morrell's bone collector archery targets, these targets will help you improve your skills and your precise shot's. The Patented center of this Range Bag Archery Target stops almost all your arrows up to 400 fps.
Morrell's Bone Collector Target
---
The  stopping ability and the arrows pull out is very easy and very durable, Making Morrell's Bone Collector Target Bag a great product. The Bone Collector Archery Target measures 29 inches height x 31 inches width x 14 inches deep. The Bone Collector has an Internal Frame System, It weighs around 50 lbs. and 100% waterproof, that helps to Extended it's life as a target. It is also easy to remove arrow's, for use with field points.
What color does The Bone Collector come in?  Morrell's Bone Collector comes in  Yellow.
Should you keep it outside year round? All though it is waterproof I would recommend, Once you have finished with your target practice to place the Bone Collector Target Bag inside, Keeping it away from the sun to help prevent it from the elements that would break down the covering over a period of a few months. As it would fade.
Bone Collector Archery Target shoot from all 4 sides: Each side with different, look. This would be a great Target Practice for the Whole family to enjoy together.  Morrell's Bone Collector Archery Target is for field Point use only, No Broadheads! It comes with a 2 year Warranty.
( Note: This Item is oversized; additional charges will be applied at check out, Mfg Item Number: 131)
        >Click Here to SeePricing,Reviews and Ratings on Amazon.com<<