We all enjoy the great outdoors and the freedom to rome the wilderness but are we really prepared for the unknown? The great outdoors has many beautiful sights as well as many dangers, so it's always best to be prepared. Here are some Wilderness survival kits that can keep your outdoor adventures safe and fun.
Gerber Bear Grylls Ultimate Survival kit
For myself I always take the bare necessity with me where ever I go, simply because I want to be prepared for many obstacles of the wilderness.  We will start off with Gerber Bear Grylls Ultimate Survival kit, as It's a great lightweight kit to pack with you in your adventure's.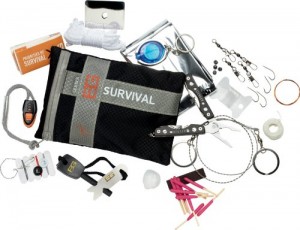 Depending on how far out in the wilderness you plan on going. The Gerber Bear Grylls Ultimate Survival kit is packed with 15 – piece's it is built for hostile environment, I really like Gerber's products the package is very lightweight for the basic survival needs, it includes:
Waterproof Nylon bag, Gerber miniature multi-tool, waterproof matches, survival blanket, fire starter, snare wire, emergency cord, cotton ball, needle nose Pliers, Wire cutters, fine edge Knife, Serrated Knife, Phillips Screwdriver, miniature light, Wire saw and so much more.
Signaling Mirror, Survival Blanket, Waxed Thread, Fishing Kit, Sewing Kit, Sheath Dimensions: 4.5″ x 6.8″, Overall weight: 9.4 oz.. As well land and air rescue and SOS instructions, Bear Gryll's Priorities of survival pocket guide and so much more.
The Gerber is a great product for beginners, I would highly recommend it for those who enjoy the great outdoors, who are just starting out. Find out more details about Gerber Bear Grylls Ultimate Survival Kit by clicking here.
If you're more outdoorsy's and consider yourself an expert in hiking here are some other items that may better suit your needs as they are more durable sufficient for your needs.
As the survival kit already has a multi-tool I find this Gerber 01471 Suspension Butterfly  as it's 6 inches x 3.5 inches x 1 inches to be more, stronger and durable as well I would replace the wire saw with handheld Sportsman Pocket Chain Saw instead..
Total Wilderness Survival Kit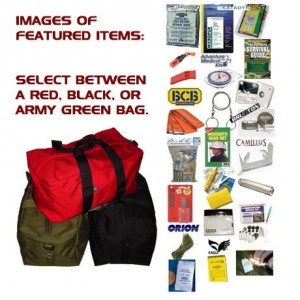 If you are wanting to get more bang for your buck I would recommend this The Total Wilderness Survival Kit,  it's packed full of Items that will keep your adventures safe for any situation. The Total Wilderness Survival kit has over 200 Survival products that will help you survive in the harshest conditions, it includes:
960 cubic feet storage bag, 1000 Denier Cordura Bag that is water-repellent. Purification tabs, fishing kit, Brass snare wire, flat coffee filters, Survival guide, first aid, navigation, mirror, whistle, matches, compass and so much more list goes on and on.
This is a great buy for any situation while your out hunting to ensure that you are prepared for any situation, Click here to find our more information & price on the Total Wilderness Survival Kit.
If you have any question or comments on the Wilderness Survival Kits, Or if you have an experience with either one that you'd like to share, we'd love to hear all about it below. 
Cheers,
Jennifer