Recently, crossbows have become extremely popular. More and more consumers are looking to find the best crossbow and the best budget crossbow on the market. The truth is that there is not right answer for this as the right crossbow is going to be different for every user as they each have their own needs.
You need to look at the advantages and disadvantages of each potential crossbow and look at the different types of crossbows as well. Here, we want to help you find the best budget crossbow and we have included a number of pointers to help you make your choice.
Use the tips below to find the crossbow that won't break the bank but that will still provide you with good performance.
How to Choose the Best Budget Crossbow
When looking for the best budget crossbow you must know that budget doesn't mean poor quality. You should consider other things other than price as cheaper items most often lack quality.
You want to find a bow that is either not made from plastic or one that is made from top quality plastic. As much as possible try to choose a crossbow made with metal as it will be sturdier and won't break too easily.
For ease of use you want to also get a crossbow that features a built-in cocking aid. You can find crossbows with attachable cocking devices as well as those with built in cocking devices. If you are a beginner you should ensure that you choose a crossbow with a simple design.
An inexpensive crossbow with a basic design and with less features and gimmicks is ideal and will be the best choice. Whatever you do and whatever you choose just ensure you read reviews so you don't get any unpleasant surprises.
If you have a particular budget in mind, you can read our articles about crossbows under 400, under 500, and under 600 dollars.
What to Look For In a Good Budget Crossbow
Those looking for budget crossbows are usually beginners and so one of the main things you want to look for in one of these crossbows is how safe to use the crossbow is. Here are some safety mechanisms to look for in a good budget crossbow.
Anti-Dry Fire – this mechanism will lock the crossbow's trigger when the unit is loaded but the arrows are not properly positioned for firing. This safety feature protects the crossbow since firing the unit with a properly loaded arrow can damage the crossbow and can even cause injury to the shooter. This is a great feature for beginner crossbows.
Automatic Safety – this protects from accidental firing. It is best to look for a safety that will automatically engage when the weapon is cocked.
Protective Flanges – the strings of the crossbow can be dangerous when you fire the crossbow. If your thumb or any other finger comes into contact with the strings there can be extreme risk of injury. A protective flange will run above the front grip and along it to minimize the risk of your finger getting stuck too high.
Last Punch 80lbs Self Cocking Cobra Crossbow Review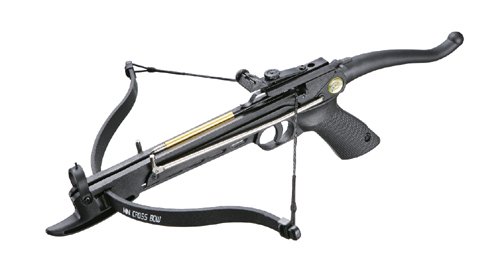 This crossbow is one of the oldest you will find on the market, being around for more than 5 years to date. It is quite the popular choice for crossbow enthusiasts as well. With your purchase of this set you get 15 6 inch arrows complete with field tips. The crossbow weighs just 2.8 lbs. so it is lightweight and small and easy to carry around.
It is a great item for use in hunting or even for some fun in your backyard. It is a self-cocking crossbow and you can simply pull down the lever on the rear and then it will be ready to fire. This is great for beginners since it doesn't require a lot of physical strength and expertise to cock the unit.
This unit from Last Punch features an 80 lb. draw weight and also has automatic safety. It is an ideal budget crossbow for hunting small game. Made with an all metal body with brass plates you will find that this crossbow is affordable yet strong and durable so it is a great investment.
Kings Archery Self-Cocking Crossbow Bundle Review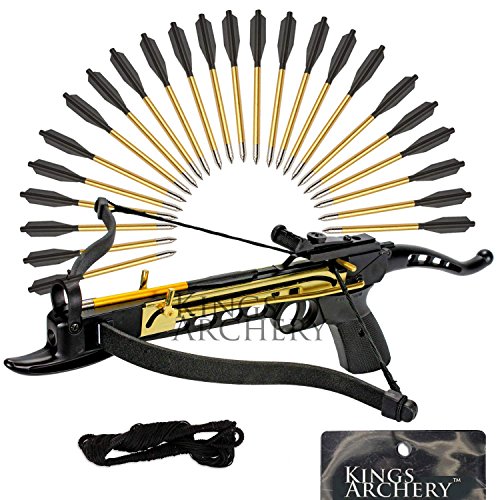 This is a great starter set that comes with an 80lb draw weight. Included with your purchase is a metal alloy constructed frame in a compact design and everything you need to get started right away. This crossbow from Kings Archery fires up to 100 yards and fires at a rate of 160 FPS.
The crossbow system on this unit is a self-cocking system and comes with 3 metal aluminum arrows. Included in your purchase is allows an adjustable rear sight, a fiberglass bow prod, functional safety, limb caps and strng and an integrated scope track.
This crossbow is well built and is strong. It is suitable for younger archers and beginners because of its smaller frame. Though small it has great shot specifications and will provide you with hours of fun and satisfaction.
PSE Viper SS Crossbow Viper SS Handheld Crossbow Review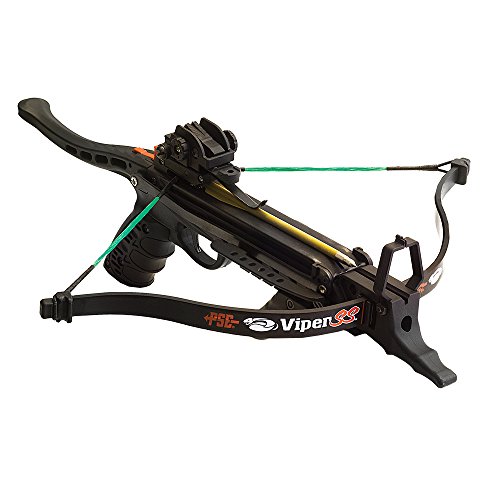 The PSE Viper SS crossbow is a popular crossbow that is used for recreational use. The SS is a newer better version of the previous Viper. It is fun to shoot because it is so easy to use and gets the bows to your target as fast as 215 FPS. This crossbow features a 50 lb. draw weight and a power stroke of 2.5 inches.
The bow is compact measuring 19.5 inches in length, 17.33 inches in width and comes with 6.5 inch bows. The unit is made with a compression molded fiberglass limb and an aluminum alloy stock. The unit allows for precision shooting thanks to its track-style rail.
This crossbow is made with an integrated cocking mechanism and has a 2nd safety in the form of a safety lock. For the safety of your hand there is also the finger guard.
Conclusion
If you are looking for the best budget crossbow you can choose any of the above. We like the PSE Viper SS because it has multiple safety features which is ideal for beginners. We like the Last Punch kit since it comes with the most arrows so it really provides you with value for money.
All these crossbow kits are well made and durable as well as they come at a great price and are good for beginners, you won't be disappointed in your purchase of any of these products.